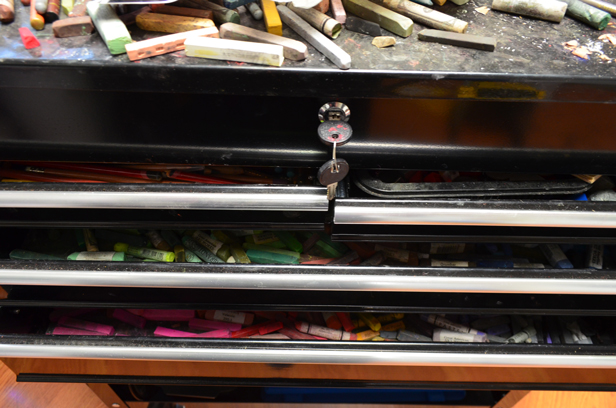 In My Pastel Tool Box:
Rembrant Pastels
Great American Artworks Pastels
Unison Handmade Pastels
Artist Loft Pastels
Generals Pastel Pencils
Conte Pastel Pencils
(There are more pastel brands, but I'm not sure what they are.)
Sennelier Pastel Sanded Paper (Most of the time, because I love the texture.)
UArt Sanded Paper
Sally's Wax Free Paper (Some, not all of my drawings – mainly the big ones I sketch it out first. Cut out the parts I like, tape them to a big piece of paper. Draw over it some more and transfer it. I still change things, but it helps to correct things I don't like and let me see how I want to fit things together.
Ball Point Pen (To transfer the drawing using the wax free paper. It works better than a pencil because it doesn't get mixed up with the original pencil drawing and I know where I already traced.)
To save money I used a coupon and bought a toolbox(pictured below) to store my pastels – it was cheaper than my dream pastel storage, easel, a fold-up table I dreamed of buying at DICKBLICK, but it works. I can use the top as a table and store my stencils and large rulers underneath the lid.
It sounds weird, but I use a vacuum cleaner, NOT WITH THE BRUSH ATTACHMENT and ONLY on sanded paper. I do not let the vacuum touch the paper, it could smear the art or leave a ring from the hose.
For Pencil Art:
MECHANICAL PENCILS
TORTILLIONS
KNEADED ERASER
PRISMACOLOR GRAPHITE PENCILS
BLUNT NEEDLE
ELECTRIC ERASER
For pencil art use a blunt needle to make indents to shade over and leave white areas underneath. I like to use my electric eraser not just for erasing but for shading too. I cut off the tip of my tortillion (the paper rolled into tubes for shading) to the size of the eraser holder and carefully use it to shade my pencil art. I'm not really picky on my pencil brands. They all have their uses.  Everyone knows drawing supplies are my favorite thing, so that's what I always get for presents, so I use everything and every brand. Sometimes I use charcoal to get darker values.
I use tool boxes from the hardware store one for pastels, one for pencils and the rest, I sorted out in little clear containers. (I found that it was too expensive for me to buy the fancy storage from the art stores. It doesn't stop me from daydreaming about a Best Urania's Pastel Desk, but they work and give me something to keep dreaming about. I love to use baby food jars to organize my small items, such as pencil sharpeners or erasers. I also use them for pencil shavings. Another great thing for collecting pencil shavings is the plastic toddler baby food containers. I love those things. I let my daughter watercolor with them and toss them into the recycle bin or rinse them out depending on how much time I have. I like to reuse and re-purpose other stuff too. When my dishwasher broke, I kept the silverware container and now I am using it for scissors, pencils, a stapler and things like that.
For Cleaning:
Baby wipes are wonderful for keeping hands clean and wiping down your work area.
Interested in purchasing my pastel art? Be sure to visit my purchase page.