This blog about my book publishing experience, so if you are thinking of writing a children's book yourself, then hopefully it will be of some use to you. If you are thinking of publishing a book, the first you need is a story or at the very least, an idea. Many of my stories come to me in the middle of the night. The ideas will rattle around in my brain and wake me up. Usually, I can't get back to sleep until I've written them down, so  I keep paper next to me while sleeping and I'd recommend you do the same, or you'll be surprised how many ideas slip through your fingers if you don't write them down. Now that you've added "buy journal" to your to-do list, let's get back on track to thinking about something to write about. I suggest you read. Read a lot. Read everything. The best thing about writing is inspiration can come from anywhere, as for "They Don't Make Socks For Chicken Toes" this particular book idea came to me one night while I was putting my daughters to bed, I overheard one of them say, "Chicken socks? Now, that's just silly. Chicken's don't get socks." I kept thinking about it and later that night my sleep was interrupted thinking about what she said, and the rest is history or should I say, my story.
My usual process for writing my books is: after I've either written down the quick version of the story/idea or scribbled some sketches, I draw more detailed illustrations. For this particular book, I knew that I wanted Emilia to look goofy and it would be digital art, so her design didn't take too long to create. Since my art varies from digital, pastel, graphite and more, I usually draw a few pages of the book that I've written to get an idea of how I want the final book to appear. Afterward, I gather up all my illustrations and ask my eldest daughter which version she likes best, but if she enjoys everything, then I'll just choose what is most appealing to me. Emilia started off like this drawing on the left, but I later changed her to look like the drawing on the right. I decided that I liked the second version better because it looked cleaner than the first image. I love the look of pastel paintings, especially in a children's book, but lately, I've moved toward digital art because there is no cleanup and frankly, it's just fun to make digital art. Photoshop and Illustrator depending on your art style can give you instant gratification regarding color changes. If you hate the color you picked, then the paint bucket is your new best friend. Since I am a self-taught, self-published author, I'm still learning myself, so if you have a better way of doing something, feel free to chime in the comments section at the bottom.
I chose to publish through CreateSpace and Amazon, not because I was against going with a big publisher or anything, but getting an agent seemed like an impossible feat. There is so much talent, and amazing artists out there that my likelihood of being chosen seemed unlikely, plus publishing on CreateSpace and Amazon is as easy as finding your file uploading your work. Don't let me discourage you! I also like having control over my books. However having a book good enough to publish, having people like your writing and art, then having them ever see what you published in the vast sea of professionally and self-published books is another story.
If you already have your book idea and have decided you are going to self-publish, then you need to think about the size of the book will be and how many pages you would like the final book to be. Remember, the more pages, the more expensive it will be. I tried to keep my children's book around 36 pages. It's free to publish on digitally on Amazon and physically on CreateSpace, but you have to pay for if you want copies for yourself.  While publishing is free, they do offer services, such as editing, cover designing, etc., but you have to pay for them. I didn't pay for those services, so I can't give you my opinion on them. I chose the 6-inch by 9-inch format. It fits well on shelves, and it's a popular size for transitional chapter books.  If you are an author who wants to self-publish a children's book and needs to hire an illustrator, it's a good idea give the artist some idea on how big you want the book to be. It would be a waste of time for both you and an artist to invest your resources in a paper size that is not what you had in mind. It's a waste to shrink or stretch a good illustration into the wrong size of a page, ruining the image in the process, so it's best to design your book with a clear measurement in mind. It's also a good idea to print out your text and draw a quick sketch or print out what you have so far, on the size of book you have decided on because after the book starts to come together, chances are you are going to change things. This picture is an idea of my quick pre-proof (It's probably not the right term for a proof before a proof, but since I don't know what to call it, let's pretend I just coined a phrase and just ignore my ignorance, so we carry on.
For CreateSpace, the inside of the book is created separately from the cover, so when you format your cover into a .pdf, don't include the cover pages. You have to create the front and back cover as one pdf. Here is their link for cover formatting: https://www.createspace.com/Products/Book/CoverPDF.jsp . Another great thing about CreateSpace is their Interior Reviewer it is a great tool because it can give you a pretty good idea of what your book will look like once printed. CreateSpace still recommends ordering a physical proof (a printed preview of your book), and they do charge you for it.
While you can get royalties from your book and you can choose different forms of distribution, such as selling on Amazon.com, but you have to rely on them to report to you if and when a book sells. There is tons of competition everywhere, but if you go in knowing that you probably won't get rich (there are exceptions) and just want to give your kid a book you've written, then self-publishing can be awesome. It was a pleasant moment when I overheard my three-year-old say, 'Out of all the feet in the animal kingdom; I'm stuck with you! You limp, long, lumps of horrible chicken toes. Dogs have pretty paws. Horses get handsome hooves. I am stuck with featherless stick-legs. I have the ugliest feet in the whole WORLD!', because she was quoting my book, "They Make Socks for Chicken Toes" I know she enjoyed it and it was a great encouragement for me to keep writing. So if you have a book idea in mind, what are you reading this for, go, get your pencil, start writing, but if you are looking for an illustrator… why, hello there. If you are reading this blog to find out more about Emilia and her chicken toes, then I'm sorry, I keep getting sidetracked, but the best way to learn more about her is to read my book, "They Don't Make Socks for Chicken Toes." If you have any questions about my books, writing process or art, then comment below.
Want to read my books on Kindle? Click the image of the book and buy it on Amazon!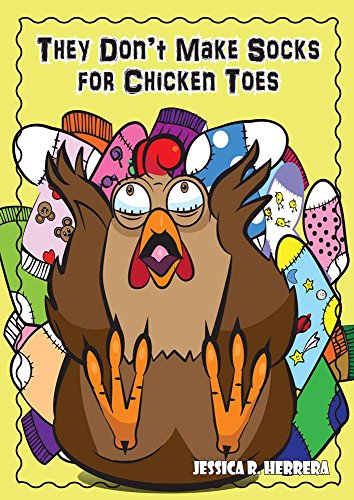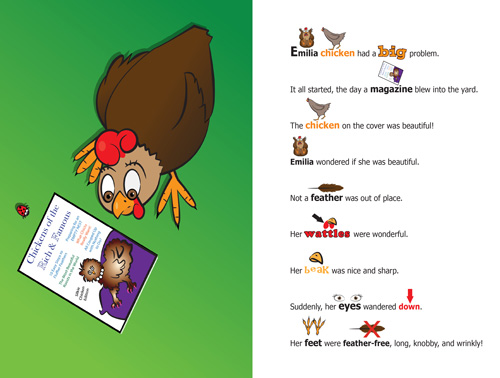 Here is the sample for the "Fledgling Edition" for early readers will be coming out soon!