Jessica R. Herrera | Author, Illustrator & Artist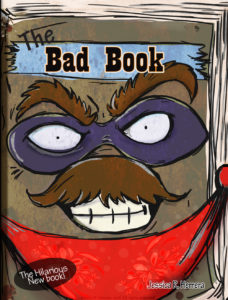 The Bad Book
36 pages (Paperback)
Author & Illustrator: Jessica R. Herrera
Language: English
ISBN-10: 0996720987
ISBN-13: 9780996720984
Product Dimensions: 8.5 x 0.1 x 11 inches

Buy my product
Did you know that not only is THE BAD BOOK a fun and silly story even for reluctant readers, but it can also be a teaching tool?
Use The Bad Book as a conversation starter to talk about how bullying affects people.
Discuss synonyms, run on sentences and the importance of grammar.
Talk about how everyone can make a difference by helping those who need it and how a little encouragement can help make positive changes in others.
The Bad Book is on a mission to destroy all the other library books! This clever approach will make you chuckle as the pages turn, but it will also sneak in a heart tug here and there. Understanding is such an empowering tool. Sharing is so liberating. And together they make a perfect story! – Darleen Wohlfeil, Story Monsters Ink magazine
Five Star Book Review: "I loved the story and I believe this will be a great book for kids that have teasing and bully issues. I think it will help them look at life a different way and it may help them make friends with their bullies. Jessica is a fantastic writer with great imagination. I will be making sure my nieces and nephews have a copy to enjoy as they grow up."
Five star Book Review: "The Bad Book is good! Great book. My kids loved it. They thought it was funny and very entertaining."
Shelly the Sugar Eating Snail (Shelly's Sweet Tooth) Listen-Along Mp3 by Jessica R. Herrera and Narrated By Eric Nussbickel  (Book Sold Separately)
Price $1.99
www.JessicaRHerrera.com
Author, Illustrator & Publisher: Jessica R Herrera
© 2017 Jessica R. Herrera
All rights reserved. No portion of this Audiobook may be reproduced or redistributed in any form without permission from the publisher, except as permitted by U.S. copyright law. For permissions contact:
Contact@jessicarherrera.com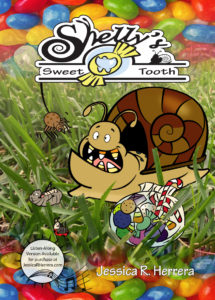 Shelly's Sweet Tooth (Book)
List Price: $8.99
8.5″ x 11″ (21.59 x 27.94 cm)
Full Color Bleed on White paper
38 pages
Author, Illustrator & Publisher: Jessica R Herrera
ISBN-13: 978-0996720991
ISBN-10: 0996720995
BISAC: Juvenile Fiction / Animals / Insects, Spiders, etc.
Tags: Kids, Books, Children's Books, Audio Book, Listen-Along, Mp3, Humor, Picture Books, Reading, Nutrition, Healthy Eating, Silly Stories, Pre-School, Kindergarten, First Grade, Snails
Thanks for visiting!
Let me introduce myself. I am an author, illustrator, and artist from the beautiful state of New Mexico, also known as the Land of Enchantment.  In New Mexico, everything from our green chile, weather, and air balloons are hot.
I love to create art, almost as much as I love to be with my three girls. My work varies from pastels, pencil, watercolor, scratch art, mixed media, computer art, painting and other creative media. I love drawing animals. I have always found wildlife fascinating. I'm adding more New Mexico inspired art to my collection of drawings. In 2015, my pastel "Trading My Heels For Combat Boots: My Tribute to Women in the Military"  won first place in the Special Recognition category in the National Veteran's Creative Arts Festival.  I am the author and illustrator of "The Bad Book", "They Don't Make Socks for Chicken Toes," "Adventures of the Pink Mantis: Escape of the Pink Mantis" & the "Sugar & Spice" Series (Jack O'lanterns). My goal is to write children's stories that teach life lessons. I want to open up new worlds of fun and make someone smile, or even better- laugh.  Thanks to everyone who has inspired me to keep writing.
Here are some samples of my art…