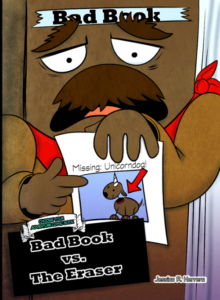 Bad Book vs. The Eraser: Choose Your Adventure Comic Book
Jessica R. Herrera's hilarious character, Bad Book, is back with a new adventure! The Bad Book's archnemesis, the Eraser, has kidnapped his best friend. Will the Bad Book find his friend in time to rescue Unicorndog before the Eraser rubs him out? Kids will love this choose your adventure comic book! It's loaded with funny illustrations and silly situations! Perfect for reluctant readers and everyone else.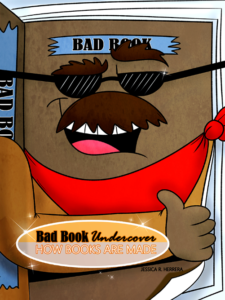 Bad Book Undercover: HOW BOOKS ARE MADE
Did you ever wonder what an author or illustrator does? Or how books are made?Learn about books—Bad Book style! Bad Book Undercover: HOW BOOKS ARE MADE
This book will surely give you the giggles while teaching you about the job of an author, illustrator, and publisher.
Jessica R. Herrera is the author and illustrator of "The Bad Book," Bad Book vs. The Eraser: Choose Your Adventure Comic Book, and many more books.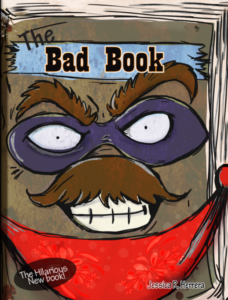 The Bad Book
The Bad Book is on a mission to destroy all the other library books! This clever approach will make you chuckle as the pages turn, but it will also sneak in a heart tug here and there. Understanding is such an empowering tool. Sharing is so liberating. And together, they make a perfect story!
– Darleen Wohlfeil, Story Monsters Ink magazine
"I loved the story, and I believe this will be a great book for kids that have teasing and bully issues. I think it will help them look at life a different way, and it may help them make friends with their bullies. Jessica is a fantastic writer with great imagination. I will be making sure my nieces and nephews have a copy to enjoy as they grow up." (Amazon Five Star Review)
"I put several copies of your book (The Bad Book) on the shelves on Friday and the kids went wild with excitement: all copies were checked out immediately!" – (APS Librarian)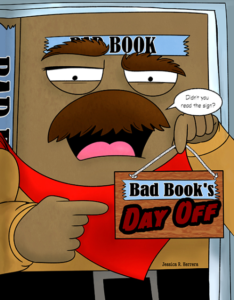 Bad Book's Day Off
Bad Book is determined to have a relaxing day off despite constant interruptions.*
Bad Book returns yet again in a new book. This book is perfect for reluctant independent readers that love to laugh. If you enjoyed Jessica R. Herrera's other books, The Bad Book, Bad Book vs. the Eraser: Choose Your Adventure Comic Book, and Bad Book Undercover: How Books Are Made.
* AUTHOR WILL NOT BE LIABLE TO PARENTS WHO COMPLAIN THAT THEIR KIDS WILL NO LONGER PLAY THEIR EXPENSIVE VIDEO GAMES DUE TO A RECENT LOVE FOR READING BECAUSE OF THE BAD BOOK.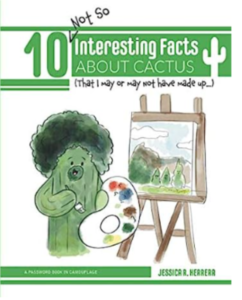 10 (Not So) Interesting Facts About Cactus(That I May or May Not Have Made Up)
Hello! Were you expecting something else? A book about cactus, perhaps? Don't look so confused. If this book tricked you, then it can fool others, too!10 (Not So) Interesting Facts About Cactus (That I May Or May Not Have Made Up) is a password book in camouflage. It has been disguised and designed to fit in with most other books on a bookshelf, yet inside, you can organize all of your passwords, contacts, notes, and online subscriptions (along with their renewal dates). It also has larger than average font to make the words easier to read. There are fun characactus, well, just because I felt like it. Why does a password book have to be boring? There really are ten cactus facts (that I may or may not have made up). This is one time you should hope that the people searching for your password keeper judge a book by its cover and leave it safely on your shelf where it belongs. I hope this book helps you spend a little less time figuring out where you put that little piece of paper that had that one password you really need but can't find and more time doing things you'd rather be doing, like drawing characactus.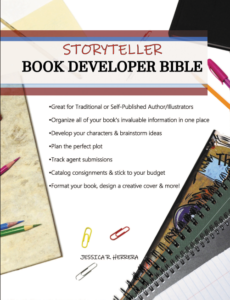 Storyteller Book Developer Bible
WHAT IS THE POINT OF THIS BOOK?
This book is not a how-to book or tutorial but a place to gather ideas, resources, character sketches, and other information to assist in organizing your inner writer/illustrator.
Traditional and self-published authors/illustrators will find the Storyteller Book Developer Bible helpful because this is the place where you can plan and brainstorm ideas and designs for your upcoming book. You can easily keep track of the likes and dislikes of your characters, stick to your budget, and create world maps. Illustrators can print and paste or sketch while storing color codes and designs for future reference. Are you working on a sequel? No problem. Use this book to keep track of world facts and agent information. Stop wasting time and energy trying to get organized; this book can help!
WHAT THIS BOOK IS NOT:
The Storyteller Book Developer Bible is not a how-to book. There are lots of fabulous books available that can teach you how to be a better writer or illustrator. You can search online for tutorials on how to file copyrights and marketing. If you use this book along with those other resources, then this book will help you create, organize, improve, and sell your future story.
Jessica Herrera is a participant in the Amazon Services LLC Associates Program, an affiliate advertising program designed to provide a means for sites to earn advertising fees by advertising and linking to Amazon.com