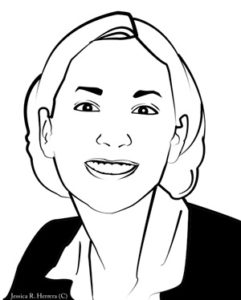 A long time ago…(so long in fact, if you asked me my age, I probably wouldn't remember) I was given a beautiful yellow pencil with a number 2 engraved into it and I found out that the pencil had the incredible power to turn ordinary paper into drawings that made people smile! I drew a funny looking picture of a bulldog, my dad smiled. I drew pictures in school, and the teacher smiled. Every time I showed someone, they would smile. After seeing all the smiles, I decided that I loved to draw. So I drew cats, dogs and everything that I thought would make a good drawing. I drew until my pencil was used up. I realized drawing was what I wanted to spend the rest my life doing. I became an artist, and I make people smile.
About Me For Grown-Ups (Boring Version)
My name is Jessica R. Herrera. I live in the beautiful state of New Mexico the Land of Enchantment, where everything from our green chile, weather, and air balloons are hot. I love to draw and paint, almost as much as I love to be with my three little girls. I paint with pastels, draw with pencil and create digital art. I write children's stories, that I hope will make someone smile, or even better- laugh. Want to know more about me? Email me questions or artwork. I would love to see it.
Questions & Answers
What is your favorite medium?
My favorite medium always changes or evolves as I learn more about it. Currently, I would say, pastels are my favorite medium.
What are your favorite recently published kids books?
My favorite books to read to my kids are any of the Minnie and Moo series, Inspector Flytrap Series, Mr. Putter & Tabby, "Henry and Mudge", & Fancy Nancy books.
What were your favorite books to read as a kid?
My favorite books growing up were anything by Dr. Seuss, "Blossom Come Home" & "Moses the Kitten" by James Harriot, and I have read Anne of Green Gables & Anne of the Island, more times than I care to remember.
What is your favorite animal?
I have several, but for my top 5,  it would have to be: Tigers, roadrunners, owls, hummingbirds, and cats.
What is your favorite bug?
Praying Mantises and dragonflies
What books have you authored & illustrated?
The Bad Book (Children's Picture Book)
They Don't Make Socks For Chicken Toes(2 Versions)
Sugar & Spice: Alone For Halloween
Sugar & Spice: The Seedy Visitor
Sugar & Spice: Halloween Dance Party
Sugar & Spice: Turkey's Thanksgiving Dinner
Where can I purchase these books?
My books are available on Amazon, Barnes & Noble, Walmart, Bookworks (Albuquerque, NM), and on this website.